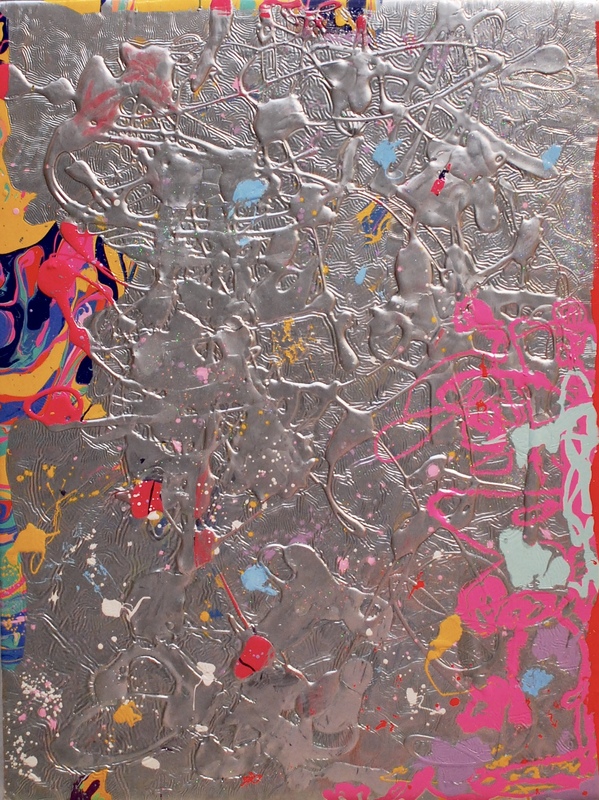 22 Nov 2019
Peter Reginato: The Silver Series
Broadfoot and Broadfoot
Reviewed by Dana Gordon
Peter Reginato achieves the fullness that art is capable of when unfettered by political, commercial, and academic rules. His work has unequaled probity, freedom, joie de vivre, and attitude, as well as mastery and gravitas. It expresses human nature, honestly, here and now.
Working in Soho in the 1960s, Reginato won recognition for his raw abstract steel sculptures. He has since shifted into painting, at first employing architectural accents, then flowing, organic shapes. Now he covers much of the thick pours of color with a layer resembling molten pewter, making even more of materiality and shape and asserting the works as an integration of painting and sculpture.
The color in July 24th (2019) still has its say, but appears to be in a standoff with the implied blanket of metal. A symphony of visual form carries the emotions. Reginato's work is proof of the enduring vitality of abstract expressionism.
| | |
| --- | --- |
| Exhibition | Peter Reginato: The Silver Series |
| Start date | 31 Oct 2019 |
| End date | 30 Nov 2019 |
| Presenter | Broadfoot and Broadfoot link |
| Venue | 819 Main Street, Boonton, NJ, USA map |
| Image | Peter Reginato, July 24th, 2019, enamel on canvas, 40 x 30 inches, courtesy of the artist |
| Links | Reviews of current exhibitions near this one |
| Share | Facebook, Twitter, Google+ |