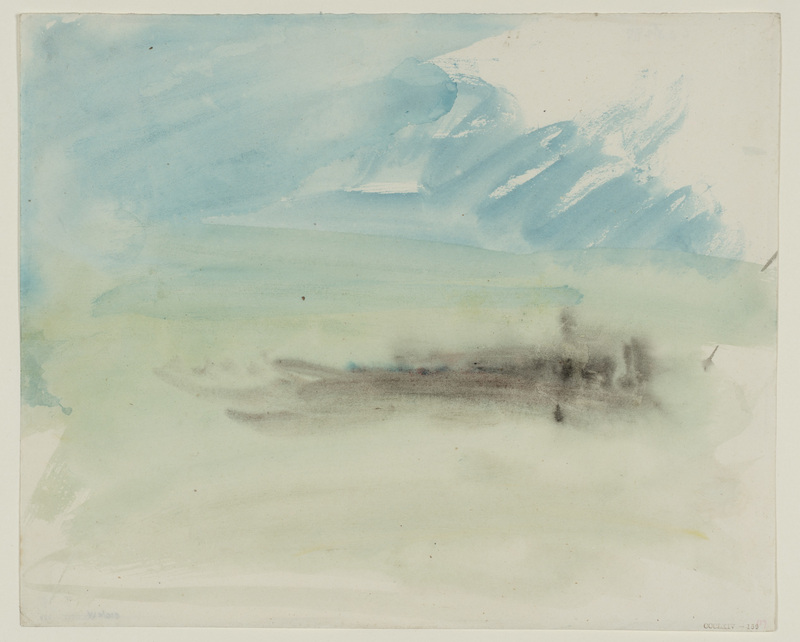 23 Jan 2020
J.M.W. Turner: Watercolors from Tate
Mystic Seaport Museum
Reviewed by Kathleen C. Stone
An artist's quick sketch can convey a feeling that a full-blown painting lacks. It's more immediate, less fussed over. The nearly one hundred watercolors that make up "J.M.W. Turner: Watercolors from Tate" are cases in point.
Some are on-the-spot observations of a place, notably Venice, Lake Lucerne, and Chamonix. Others are studies of color, light and weather - technical practice for more substantial oil paintings that Turner would later exhibit and sell. He was a technical guy, after all, a Professor of Perspective at the Royal Academy who lectured with examples drawn to mathematical scale. But the watercolors, in their lack of precision, are something else. He finger-painted and brush-painted to achieve effects, sometimes gossamer light, other times smears. He used color, bold and subtle.
In Coastal Terrain (c.1830-45), the terrain itself is indistinct. His real subject is mist, sky, filtered light, and reflection. Challenging himself to record the ephemeral, he transmits a feeling for that which is fleeting.
| | |
| --- | --- |
| Exhibition | J.M.W. Turner: Watercolors from Tate link |
| Start date | 05 Oct 2019 |
| End date | 23 Feb 2020 |
| Presenter | Mystic Seaport Museum link |
| Venue | 75 Greenmanville Avenue, Mystic, CT, USA map |
| Image | J.M.W. Turner, Coatstal Terrain, c. 1830-45, watercolor on paper, 221 x 271 millimeters, Tate: Accepted by the nation as part of the Turner Bequest 1856, © Tate 2019 |
| Links | Reviews of current exhibitions near this one |
| Share | Facebook, Twitter, Google+ |