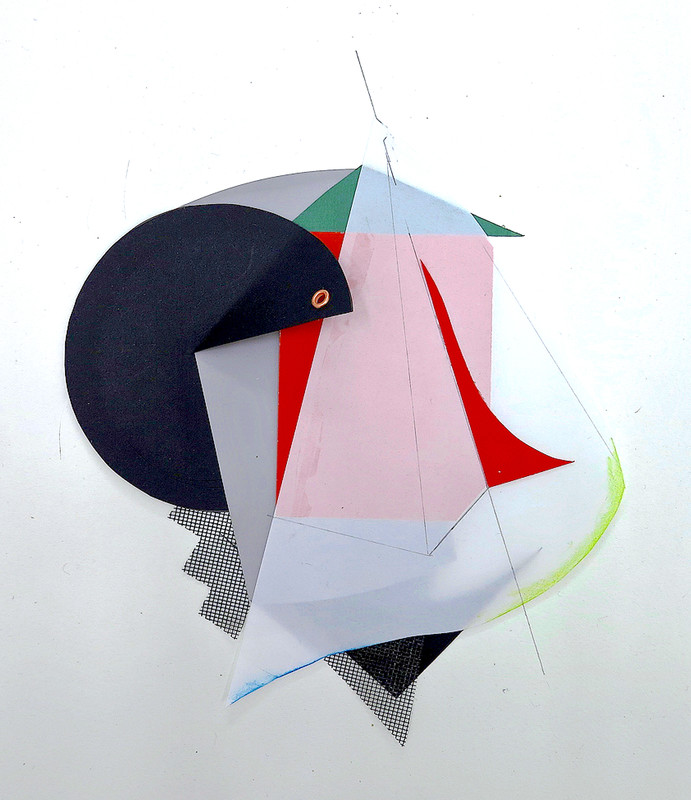 13 Feb 2020
Carl E. Hazlewood: Drawings and Collages
June Kelly Gallery
Reviewed by Piri Halasz
Carl Hazlewood has been protean almost since he came to the U.S. from his native Guyana. Besides making drawings, collages, and wall pieces like those in this show, he's a writer, curator, teacher, and co-founder of Aljira, a Center for Contemporary Art.
Of particular interest is BlackPac Eats Modernism (2016). BlackPAC is a political action committee mobilizing African American voters. The collage shows a black pie shape with a big mouth and tiny eye taking a bite out of a sail-shaped group of multicolored cut papers. This group must be "modernism," being eaten by African Americans, but does "eat" mean that African Americans are destroying modernism, or absorbing it?
As a modernist critic, I tend to call what I like "modernism." Some artists of African descent make fine modernist abstractions. Others don't. I say this collage refers to those who do, and implies that without them, modernism would be in trouble.
This show is abstract and modernist more than anything else. The two big wall pieces didn't quite do it for me, but the rest of the show is clear, concise, and elegant.
| | |
| --- | --- |
| Exhibition | Carl E. Hazlewood: Drawings and Collages |
| Start date | 17 Jan 2020 |
| End date | 03 Mar 2020 |
| Presenter | June Kelly Gallery link |
| Venue | 166 Mercer Street, New York City, NY, USA map |
| Image | Carl E. Hazlewood, BlackPac Eats Modernism, 2016, cut papers, graphite, pastel, mesh on archival paper, 20 x 16 inches, courtesy of June Kelly Gallery |
| Links | Reviews of current exhibitions near this one |
| Share | Facebook, Twitter, Google+ |