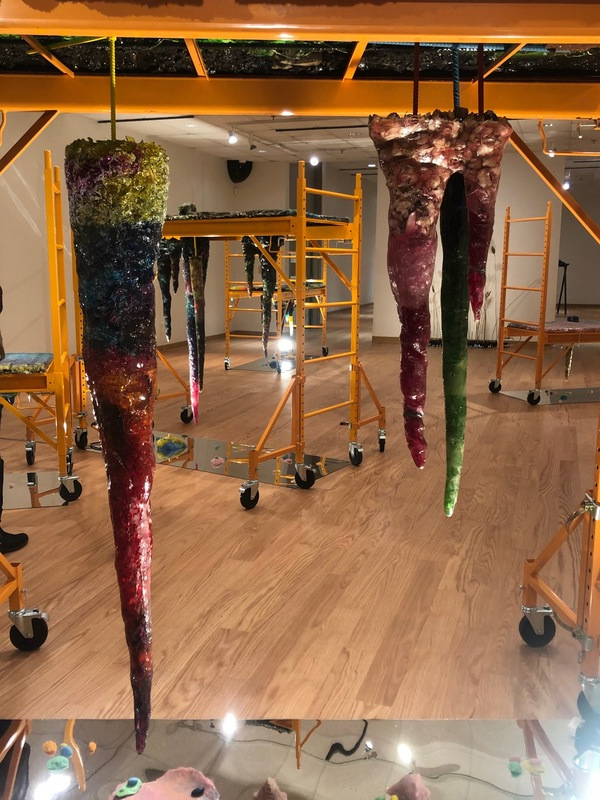 12 Mar 2020
Rachel Owens: The Hypogean Tip
Housatonic Museum of Art
Reviewed by Audra Lambert
Rachel Owens captures remnants of the past and fastens them to an uncertain present. Her current exhibition casts the floorboards of the front porches of 170-year old Bridgeport, Connecticut homes in order to show the literal footsteps that have paved the way. The exhibit pays homage to the trailblazing free people of color who lived in them, and speaks to the challenges embedded in the seaside towns that served the factories.
Platforms set up by the artist display those casts with a smattering of resin stalactites. Ombré hues presented in these installations borrow from local landscapes. One work incorporates pink tones fading to soft blue, reminiscent of sunset over the Long Island Sound.
Shells, plants, and coal interlace throughout the exhibit to speak to the elemental presence that sustains communities. Each installation features a mirrored surface beneath to allow visitors to see the whole picture, guiding them through Owens's keen, incisive way of considering how connections form our identities and our regional histories.
| | |
| --- | --- |
| Exhibition | Rachel Owens: The Hypogean Tip |
| Start date | 06 Feb 2020 |
| End date | 21 Mar 2020 |
| Presenter | Housatonic Museum of Art link |
| Venue | 900 Lafayette Boulevard, Bridgeport, CT, USA map |
| Image | Installation view, Rachel Owens: The Hypogean Tip, Housatonic Museum of Art, image courtesy of Audra Lambert |
| Links | Reviews of current exhibitions near this one |
| Share | Facebook, Twitter, Google+ |