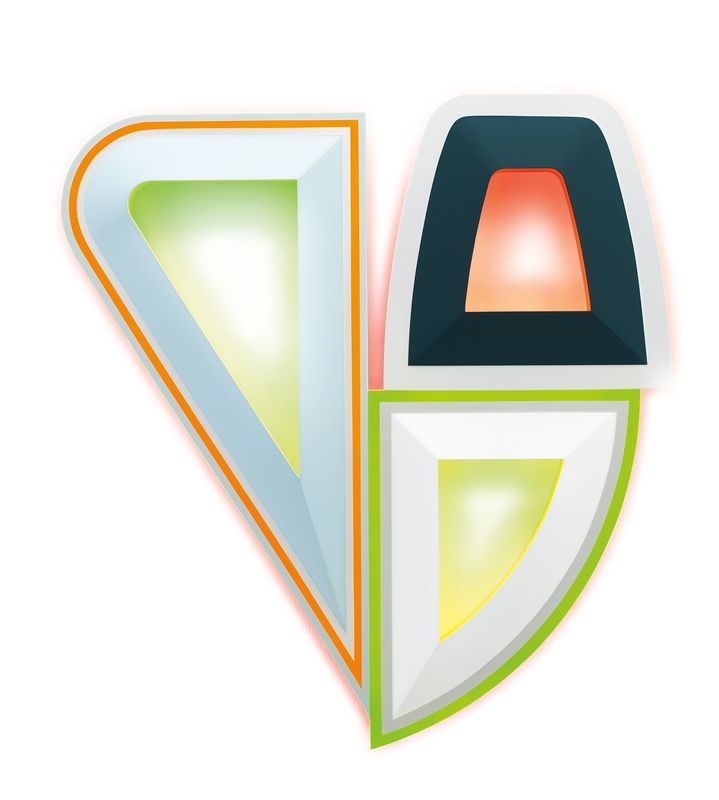 10 Oct 2020
Beverly Fishman
Miles McEnery Gallery
Reviewed by Franklin Einspruch
At first pass, Beverly Fishman's constructions at McEnery seem simply to explore some uncharted territory opened up by Frank Stella's protractor series. Highly geometric and finished to a hard gloss, they hang on the wall with great presence. Many forms open to the wall itself, the receding edges painted brightly so as to produce colorful reflections that glow from behind the physical objects.
They turn out to be a comment on contemporary pharmaceuticals and the related design both of the pills themselves and the associated marketing. Works end up with titles like Untitled (Pain, Diabetes, Depression, Depression, Depression) (2019), its five components taken from the ailments that the associated drugs are supposed to treat. They are rebuses of woe.
Flowers arise from dirt. But we brush dirt from the flowers when the time comes to display them. The tight coupling between the sources and the results closes off the works rather than clarifies them. They stand on their own, and their sinister element could come through on its own, without the prescriptions.
| | |
| --- | --- |
| Exhibition | Beverly Fishman link |
| Start date | 10 Sep 2020 |
| End date | 10 Oct 2020 |
| Presenter | Miles McEnery Gallery link |
| Venue | 525 West 22nd Street, New York City, NY, USA map |
| Image | Beverly Fishman, Untitled (Epilepsy, Anxiety, Depression), 2019, urethane paint on wood, 43 x 41 x 2 inches, courtesy of Miles McEnery Gallery |
| Links | Reviews of current exhibitions near this one |
| Share | Facebook, Twitter, Google+ |