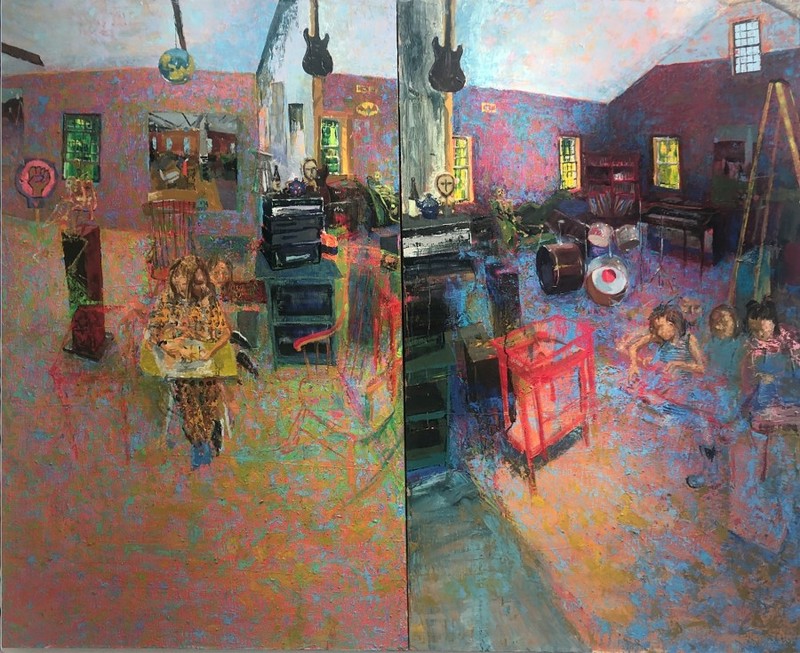 23 Oct 2020
Gideon Bok: Blackstar
Steven Harvey Fine Art Projects
Reviewed by Franklin Einspruch
Gideon Bok paints at astronomically high levels of doubt. Clearly familiar with a deep range of technical options regarding oil paint, he approaches each canvas with a spirit of experimentation that must result in regular disasters. But when they work out, they succeed with the thrill of a somersault on a tightrope.
The recent paintings at Steven Harvey are keyed around a Women's March sign that caught Bok's attention, sporting orange and neon pink that were not previously a part of his palette. This led to investigations of optical mixing, with intense colors going down as a base, thereafter obliging Bok to beat them into submission. Portrait of Ada/Portrait of Helen (2019-2020) records the history of one such effort, as a buzzing atmosphere of cool-on-warm hachure contains Cubist accretions of time, people, and objects in the Maine barn-cum-studio where much of interest seems to be going on in the pandemic-necessitated isolation - does a rock band practice there?
Charlie and Emmett (2019) pictures a dog in the lap of a skeleton, poetically summing up life in the studio.
| | |
| --- | --- |
| Exhibition | Gideon Bok: Blackstar link |
| Start date | 16 Sep 2020 |
| End date | 25 Oct 2020 |
| Presenter | Steven Harvey Fine Art Projects link |
| Venue | 208 Forsyth Street, New York City, NY, USA map |
| Image | Gideon Bok, Portrait of Ada/Portrait of Helen, 2019-2020, oil on two canvases, each 53 x 33 inches, courtesy of Steven Harvey Fine Art Projects |
| Links | Reviews of current exhibitions near this one |
| Share | Facebook, Twitter, Google+ |