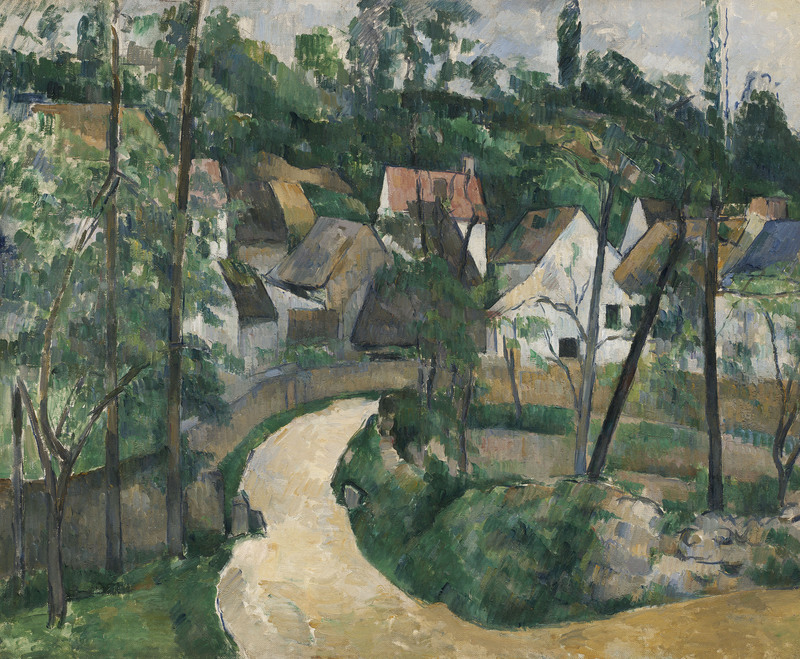 17 Dec 2020
Cézanne: In and Out of Time
Museum of Fine Arts, Boston
Reviewed by Franklin Einspruch
The MFA Boston has mounted a small show of Cézanne with no thesis whatsoever, only some banal remarks on the wall labels for the helpless. This is refreshing, and limiting the show to a dozen works in the Rosenberg Gallery scales it rightly. Cézanne's density can't be absorbed in sprawling reviews. The exhibition title doesn't matter and doesn't have to.
A still life with peaches from a private collection is paired with the MFA's Basket of Fruit (ca. 1864) by Manet to accentuate Cézanne's insights about space. It's in that light that the sophistication of landscapes like Turn in the Road (ca. 1881) and The Pond (ca. 1877-79) can be most keenly felt.
The world is so stupid right now. Aggregated studies show that lockdowns correlate inversely with Covid-19 spread at zero, but the museum is closed once again, until early January or the time that our politicians feel that their careers are no longer in danger. But even though you can't see it in person, know that it is there and take comfort. Civilization isn't done yet.
| | |
| --- | --- |
| Exhibition | Cézanne: In and Out of Time link |
| Start date | 11 Nov 2020 |
| End date | 28 Feb 2021 |
| Presenter | Museum of Fine Arts, Boston link |
| Venue | 465 Huntington Avenue, Boston, MA, USA map |
| Image | Paul Cézanne, Turn in the Road, about 1881, oil on canvas, Bequest of John T. Spaulding, photograph © Museum of Fine Arts, Boston |
| Links | Reviews of current exhibitions near this one |
| Share | Facebook, Twitter, Google+ |