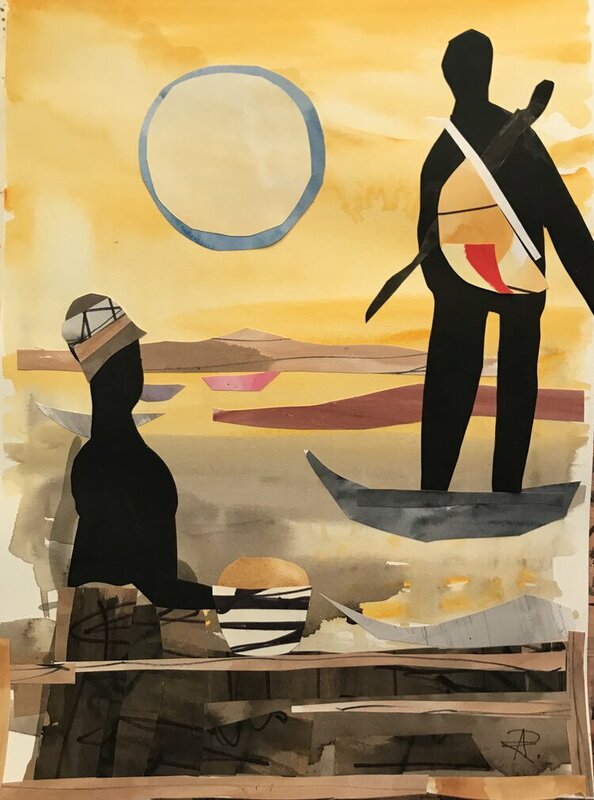 03 Feb 2021
Unfolding Roads: Alexandra Rozenman and Nora Valdez
Fountain Street Gallery
Reviewed by Franklin Einspruch
"Unfolding Roads" at Fountain Street, now coming on its tenth year as a collective having survived not one but two floods, pairs the painter Alexandra Rozenman and sculptor Nora Valdez. They share a fondness for symbolism and allegory and make a natural match.
Valdez's vocabulary of houses, cartwheels, and faceless doll-like figures seem overly familiar, a road too well-traveled by other artists. The Immigrant and Together We Can are identically conceived figures bearing houses perched upon inclines that they have presumably ascended. Still, I grant automatic respect to artists who carve stone. Anyone less determined about art chooses a softer medium.
Rozenman, due to life and travel circumstances, has been temporarily separated from her painting materials. I don't wish that on anyone, but the collages to which she resorted for this show represent a big upward jump in her work. Persons consisting of entirely black paper such as the ones in Rye Bread have achieved an attractive spookiness and graphic snap that would be welcome additions to her canvases.