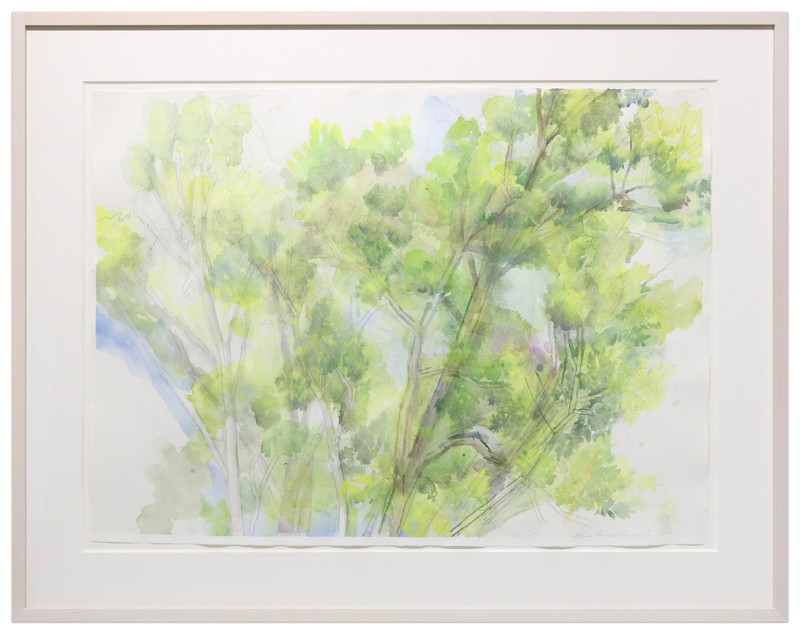 03 Feb 2021
Sylvia Plimack Mangold: The Pin Oak, 1985-2015
Krakow Witkin Gallery
Reviewed by Franklin Einspruch
Sylvia Plimack Mangold won recognition as a landscape painter via the only avenue possible in the late 1970s: a conceptual angle. She framed her scenes with masking tape and rulers painted illusionistically at the edges. This strategy hooked into an interest in the nature of the art object that was active at the time, but she sensibly discarded it when it threatened to become a gimmick.
She is now one of the giants of landscape painting, all but unmatched in dedication. The chronological span of watercolors and etchings at Krakow Witkin shows her developing from the urgent, unsure linework of the 1990s to the confident brushwork of the last few years, though the probity of the latter prevents a settling into serenity.
Valéry worried that the turn to the landscape among painters of his time would amount to a sacrifice the intellect. "I believe it matters considerably that the work of art be the act of a whole man," he wrote. But he was wrong. The whole human is here in these pictures, questing gloriously for decades in search of order among the forms of a single tree.
| | |
| --- | --- |
| Exhibition | Sylvia Plimack Mangold: The Pin Oak, 1985-2015 link |
| Start date | 17 Jan 2021 |
| End date | 18 Mar 2021 |
| Presenter | Krakow Witkin Gallery link |
| Venue | 10 Newbury Street, Boston, MA, USA map |
| Image | Sylvia Plimack Mangold, The Pin Oak July 2015, 2015, watercolor and pencil on paper, image/paper size: 22 x 30 inches, courtesy of Krakow Witkin Gallery |
| Links | Reviews of current exhibitions near this one |
| Share | Facebook, Twitter, Google+ |