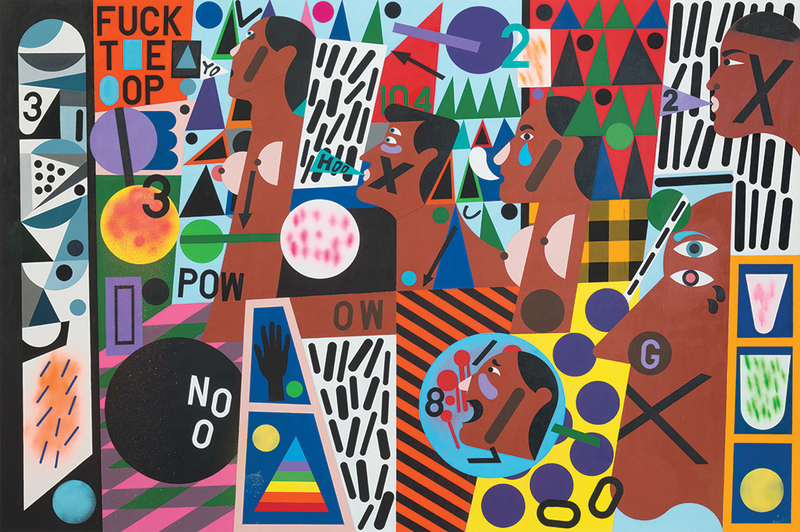 02 Jun 2017
Nina Chanel Abney: Royal Flush
Nasher Museum of Art, Duke University
Reviewed by Christopher Vitiello
In a moment of heated activist art, Nina Chanel Abney handles the politics of race and gender with a cool head and a long view.
In thirty paintings, watercolors, and collages, as well as a mural at the exhibition's entrance, the Jersey City-based artist combines aspects of cartoons and street art with traditional forms like portraiture and landscape. Her first solo museum show covers ten years of stylistic development, over which Abney flattens her scenic depth and relies increasingly on stenciled icons to compress imagery to the intensity of an emoji.
Earlier paintings like Forbidden Fruit, in which the androgynous characters are racial mashups, frustrate simple readings. In more recent pieces that portray black bodies and police as elements within an iconographic visual field, Abney discards entrenched, oppositional viewpoints to establish a more open critical position. This work brings a crucially calm tone to a fraught discussion about identity.
Exhibition
Nina Chanel Abney: Royal Flush link
Start date
16 Feb 2017
End date
16 Jul 2017
Presenter
Nasher Museum of Art link
Venue
Duke University, 2001 Campus Drive, Durham, NC, USA map
Image
Nina Chanel Abney, Untitled (FUCK T*E *OP), 2014, acrylic on canvas, 72 × 108 inches, collection of Kamaal Fareed, image courtesy of Kravets Wehby Gallery, New York, © Nina Chanel Abney
Links

Reviews of current exhibitions near this one

Reviews by Christopher Vitiello

Share
Facebook, Twitter, Google+