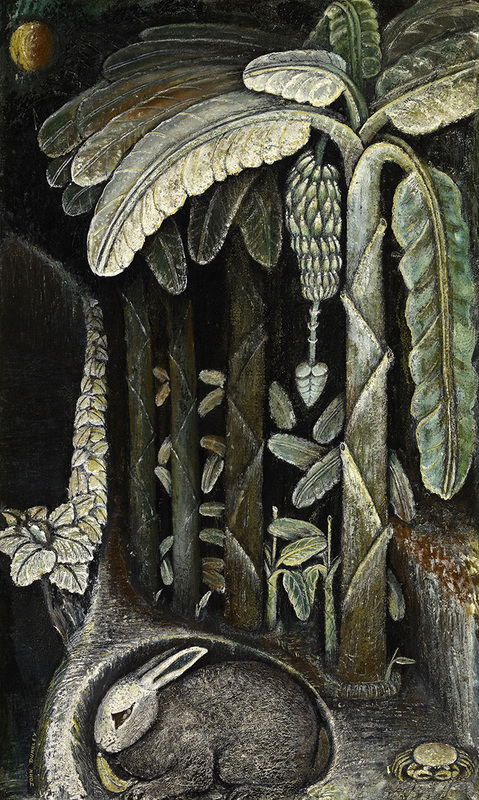 07 Jun 2017
John Dunkley: Neither Day nor Night
Pérez Art Museum Miami
Reviewed by Elisa Turner
Lush, though hardly in the verdant vein of sunny tourist souvenirs, John Dunkley's moody landscapes were inspired by his native Jamaica, as well as Cuba, Costa Rica, and Panama. A compelling look at historic Caribbean art, his survey at PAMM offers paintings from 1930s and 1940s, with some sculpture.
Dunkley's Jamaica is quiet and rural, abundant with native creatures: spiders, rabbits, birds, and crabs. Lonely paths carve mysterious byways into dark, somewhat menacing forests, where vegetation dwarfs the few figures. Details are rich and palpable.
The self-taught artist's compressed compositions let nature loom large in paintings like the iconic Banana Plantation (ca. 1945). Its clustered banana leaves and blossom point boldly to a rabbit burrowed in an earthy womb: a countryside's secretive treasure revealed by the painter's seductive magic.
This art embraces another time, one neither day nor night, with fantastical realism.
| | |
| --- | --- |
| Exhibition | John Dunkley: Neither Day nor Night link |
| Start date | 26 May 2017 |
| End date | 14 Jan 2018 |
| Presenter | Pérez Art Museum Miami link |
| Venue | 1103 Biscayne Boulevard, Miami, FL, USA map |
| Image | John Dunkley, Banana Plantation, ca. 1945, mixed media on plywood, 28 x 16 1/2 inches, National Gallery of Jamaica Collection, gift of Cassie Dunkley, © John Dunkley Estate, image courtesy of the National Gallery of Jamaica, photo by Franz Marzouca |
| Links | Reviews of current exhibitions near this one |
| Share | Facebook, Twitter, Google+ |