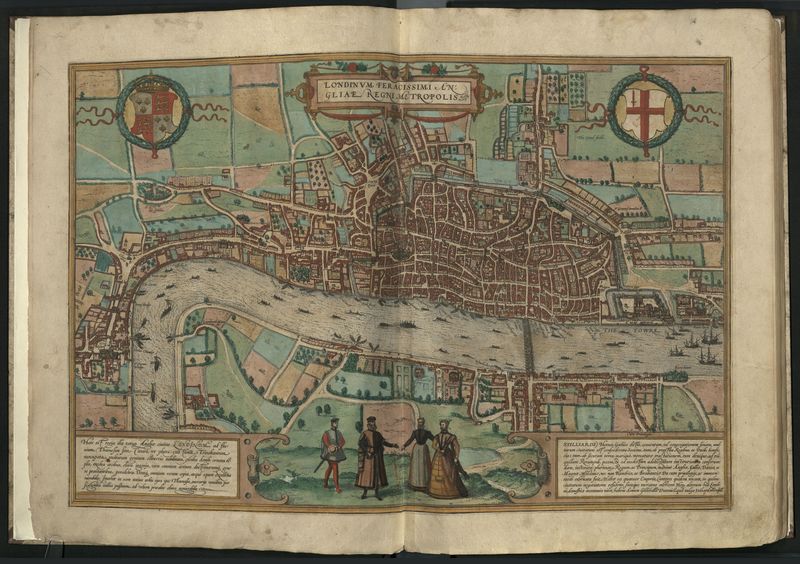 15 Jun 2017
The Most Beautiful Cities in Europe: The Edition compiled by Georg Braun and Franz Hogenberg 1572-1640
Germanisches National Museum
Reviewed by Vera Wilde
Swine, hilltop churches, and open space mark maps of the most beautiful cities in Europe 400 years ago. The old topographies show Saint-Germain-des-Prés - home to some of the 20th century's preeminent artists and philosophers, and now a bustling central Parisian district - surrounded by meadows. One bridge crosses London's River Thames. Open areas fill out its hip South Bank.
Of course some prominent cities of early modern Europe appear provincial to modern eyes. Populations boomed, developers built, and town walls gave way to suburbs. Braun, a theologian, and Hogenberg, an etcher and copper engraver, show that civilization as we know it is young. At the same time, their maps feature decay - castle ruins, a burned church tower. Creation is always new, destruction ageless.
Seeing these intricate hand-made engravings next to current photos, and the city boundaries on old maps under new, would have underscored how far we've come, how fast.
| | |
| --- | --- |
| Exhibition | The Most Beautiful Cities in Europe: The Edition compiled by Georg Braun and Franz Hogenberg 1572-1640 link |
| Start date | 16 Mar 2017 |
| End date | 24 Sep 2017 |
| Presenter | Germanisches National Museum link |
| Venue | Kartäusergasse 1, Nuremberg, DEU map |
| Image | View of London, from the edition Hogenberg: Beschreibung und Contrafactur der vornembster Stät der Welt, Einzelblatt aus Band 1, 1572, courtesy of the Germanisches Nationalmuseum, Nürnberg |
| Links | Reviews of current exhibitions near this one |
| Share | Facebook, Twitter, Google+ |