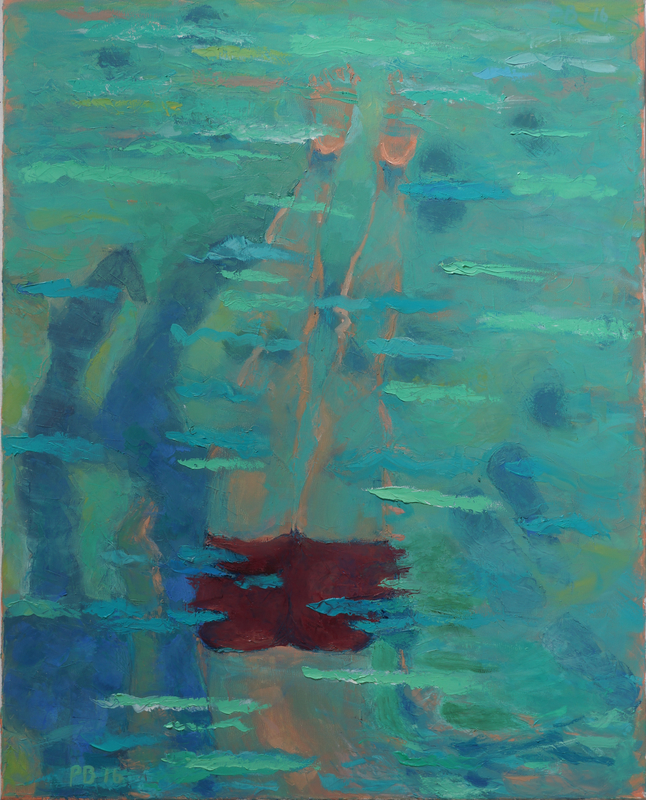 03 Jul 2017
Petey Brown: High Tide
Bowery Gallery
Reviewed by Ashley Norwood Cooper
Petey Brown's swimmers are humble, sometimes humorous. But as they float and swim, relaxing and struggling in the water, they evoke thoughts of the metaphysical.
In Pink Purple a head pops out of deep indigo. The body fades into purple and the reflection of subtle warmth spreads around it. The left arm reaches back as the right arm crawls forward, leading our eyes to a tiny dab of pink at the edge of the canvas. Is it the toe of his companion gliding away?
All that is left of the figure in Shadow Splash is the shadow floating beneath the surface, bleeding a cool blue green into the warm pink water. We are reminded of the silent aloneness of swimming. Color, echoing off the waves, replaces sound.
Color-field painters shunned narrative to immerse the viewer in color. Petey Brown embraces the story. It is, after all, the painter's story - small, vulnerable individuals entrusting themselves to their medium as swimmers entrust themselves to the waves.
Exhibition
Petey Brown: High Tide
Start date
20 Jun 2017
End date
08 Jul 2017
Presenter
Bowery Gallery link
Venue
530 West 25th Street, 4th Floor, New York City, NY, USA map
Image
Petey Brown, Under, 2015-16, oil on canvas, 30 × 24 inches, courtesy of the artist
Links

Reviews of current exhibitions near this one

Reviews by Ashley Norwood Cooper

Share
Facebook, Twitter, Google+