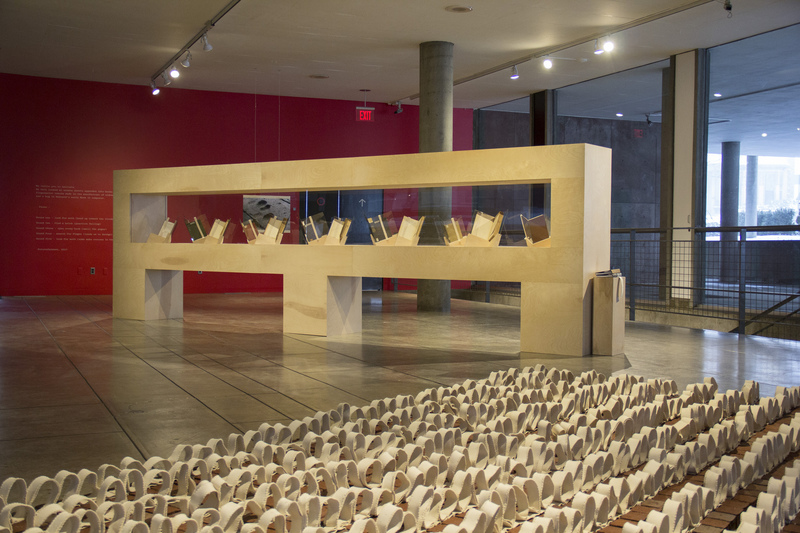 07 Apr 2017
Futurefarmers: Errata - Brief Interruptions
Carpenter Center for the Visual Arts, Harvard University
Reviewed by Heather Kapplow
With "Errata," Futurefarmers call out the ghosts in the machinery of modern industrial production, publishing, and Harvard itself.
In the lobby, despite the focus on materiality, the glitchery they've found feels so sterile that it may as well be digital. Books were manually amended, bricks clearly modified by hand, but the presentation feels, no pun intended, academic. On April 1st, though, a lively group performance dispelled this effect with a shamanic pounding of walls and rattling of windows. Bricks thundered and tinkled against one another in a pleasing cacophony.
In the Sert gallery, there is more tangible human presence. Objects and sketches are wrought finely enough to show the marks of the tools that made them.
A narrative about the Manhattan Project's inability to meet Oppenheimer's simplest office needs ties several works together, and the 5-minute video, Casting Call (2014), drives home the point with gestures: outcomes cannot be predicted by intentions.
| | |
| --- | --- |
| Exhibition | Futurefarmers: Errata - Brief Interruptions link |
| Start date | 09 Feb 2016 |
| End date | 16 Apr 2017 |
| Presenter | Carpenter Center for the Visual Arts link |
| Venue | Harvard University, 24 Quincy Street, Cambridge, MA, USA map |
| Image | Installation view, Futurefarmers: Errata - Brief Interruptions, courtesy of the Carpenter Center for the Visual Arts |
| Links | Reviews of current exhibitions near this one |
| Share | Facebook, Twitter, Google+ |