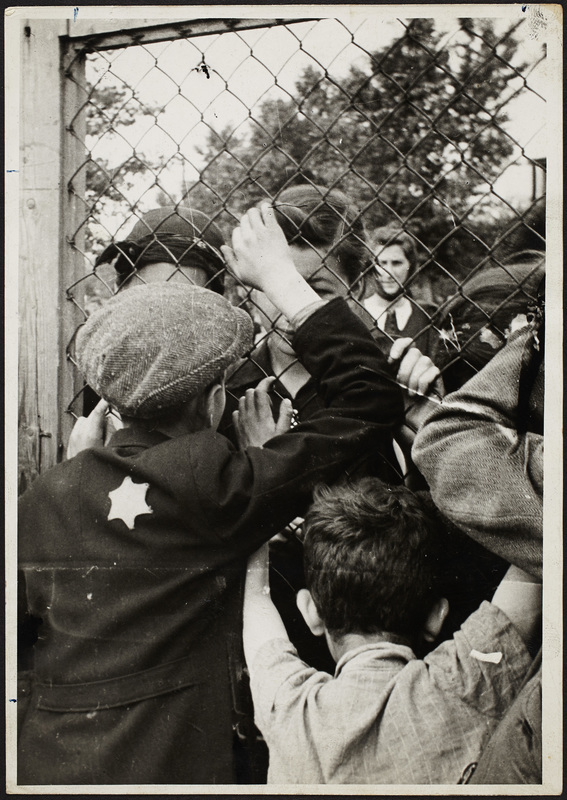 11 Jul 2017
Memory Unearthed: The Lodz Ghetto Photographs of Henryk Ross
Museum of Fine Arts, Boston
Reviewed by Franklin Einspruch
The Nazis hired Henryk Ross to take photographs for the statistics department of its Jewish Administration. He did, but he also sneaked around to document the full scope of what was going on - nothing less than an attempt to wipe out Polish Jewry. At one point he hid in an outbuilding, his camera perched behind a knothole, capturing cattle cars loaded with Jews for transport to Auschwitz. Had he been discovered, he would have been killed.
Ross's talents entirely exceeded the needs of the National Socialists. His images taken on the sly are full of sympathy, and where it was possible to attempt it, formal verve. A boy with a star sewn to his jacket-back clutches the chain-link fence of a holding cell, his arm dividing the face of a woman looking at him with a reassuring smile and a grieving eye.
I wonder if any of the cretins who harangued the MFA about that kimono bothered to see this show. The troublesome division is not between this identity and that, but between self and other.
| | |
| --- | --- |
| Exhibition | Memory Unearthed: The Lodz Ghetto Photographs of Henryk Ross link |
| Start date | 25 Mar 2017 |
| End date | 30 Jul 2017 |
| Presenter | Museum of Fine Arts, Boston link |
| Venue | 465 Huntington Avenue, Boston, MA, USA map |
| Image | Henryk Ross, The prison at Czarnecki Street, a rallying point before deportation, 1940-42, photograph, courtesy of the Museum of Fine Arts, Boston |
| Links | Reviews of current exhibitions near this one |
| Share | Facebook, Twitter, Google+ |