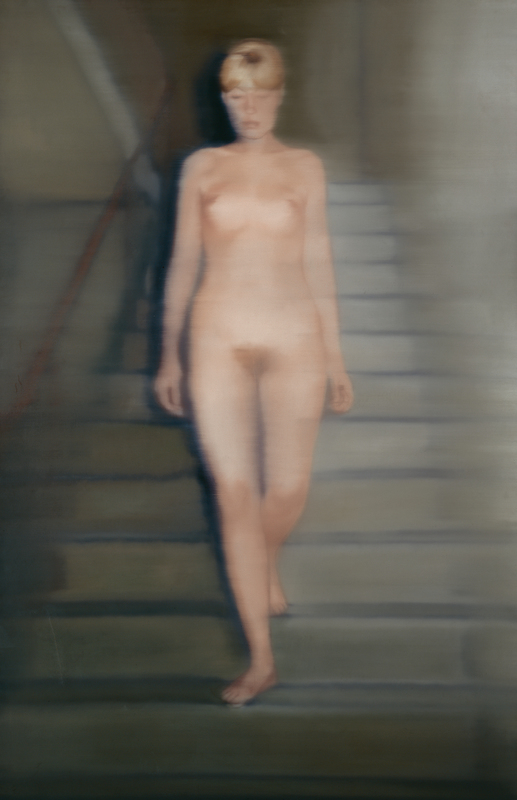 03 Aug 2017
Gerhard Richter
National Gallery in Prague, Kinsky Palace
Reviewed by Vera Wilde
The force of Gerhard Richter's effort "to paint a picture of what I have seen and what moved me, as well as I can" shines out in the variety of genres, emotions, and points on the continuum between expressive process and fine art product that he has embraced over a long career.
The exhibit spans National Gallery venues. In the Kinský Palace, Richter's oeuvre impresses most when he celebrates instead of mourns. His gray monochromes ostensibly reference the misery and indifference of concentration camps. But it's his portraits - especially Ema (Nude on a staircase) (1992) and Betty (1997) - that move one with their studied care.
In the nearby Convent of St. Agnes of Bohemia, Richter's 13th century predecessors use light and stone to invite existential seeking. Although his Holocaust remembrance object and paintings here measure large, the space upstages them. Featuring some of his sombre still lives here instead (Skull, 1983 or Candle, 1982) would have better represented his work.
| | |
| --- | --- |
| Exhibition | Gerhard Richter link |
| Start date | 26 Apr 2017 |
| End date | 03 Sep 2017 |
| Presenter | National Gallery in Prague link |
| Venue | Kinsky Palace, Staroměstské náměstí 12, Prague, CZE link map |
| Image | Gerhard Richter, Ema (Nude on a Staircase), 1966, oil on canvas, 200 x 130 cm, collection of the Museum Ludwig, Cologne, courtesy of the National Gallery in Prague |
| Links | Reviews of current exhibitions near this one |
| Share | Facebook, Twitter, Google+ |