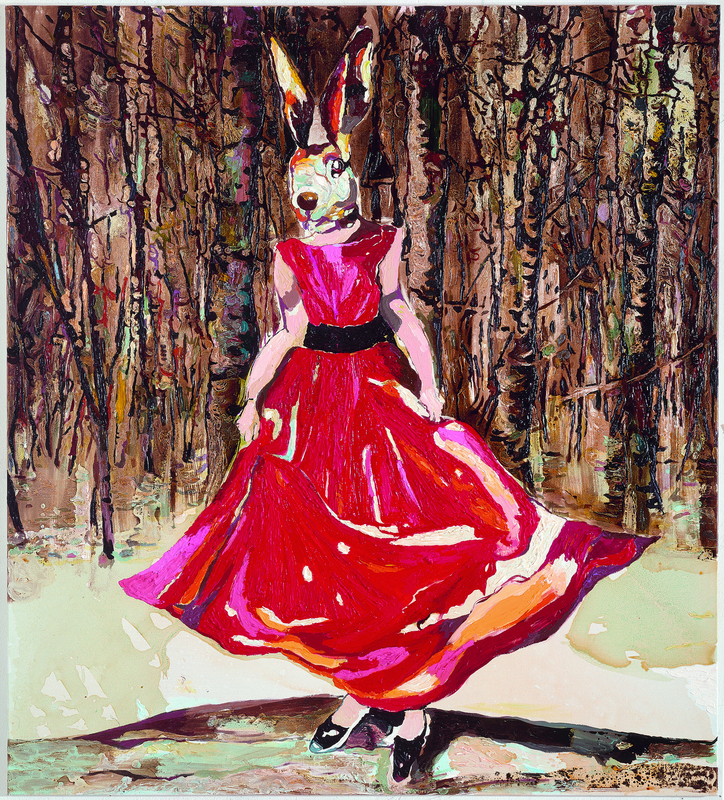 18 Apr 2017
Cornelia Schleime: A Blink of An Eye
Berlinische Galerie
Reviewed by Vera Wilde
If Lewis Carroll's Alice got classical training while reading beauty magazines, the resultant playful, skilled rebellion would look like this. From a mustachioed man-beetle to a three-faced bird-woman-snake, her watercolor figures stand alone astride blank paper worlds.
Schleime's paintings overflow their imposing canvases. Combining asphalt and shellac with acrylic, she achieves textures typical of old oils. Grains, cracks, and sparkles reward close looks. The composition fills the space. Yet, her faces exude the calm of Renaissance chiaroscuro work.
After denied applications, an exhibition ban, and tight monitoring, Schleime emigrated from East Berlin with a suitcase and a roll of paintings. Her early work disappeared. But no mourning mars her juxtaposition of colorful photographs atop framed pages of her Stasi file. Her laughing eye unifies the show, testifying to art's political power.
| | |
| --- | --- |
| Exhibition | Cornelia Schleime: A Blink of An Eye link |
| Start date | 25 Nov 2016 |
| End date | 24 Apr 2017 |
| Presenter | Berlinische Galerie link |
| Venue | Alte Jakobstraße 124-128, Berlin, DEU map |
| Image | Cornelia Schleime, Blind Date, 2007, private collection, © Cornelia Schleime, photo Bernd Borchardt, courtesy of the Berlinische Galerie |
| Links | Reviews of current exhibitions near this one |
| Share | Facebook, Twitter, Google+ |