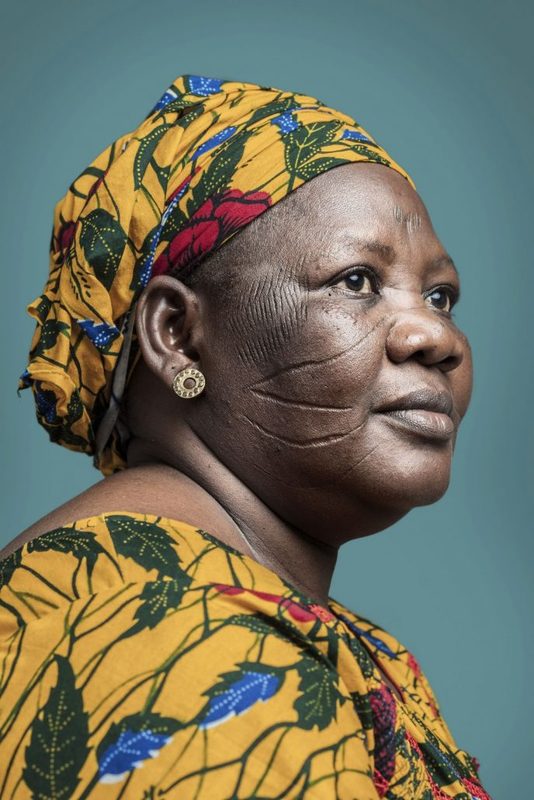 22 Apr 2018
Africa Is No Island
Museum of African Contemporary Art Al Maaden
Reviewed by Vera Wilde
With a unity rare even in solo shows, this exhibit showcases a rich range of contemporary African photography. The medium's flexibility across collage, illustration, portraiture, and more is on full display.
The experimental curation succeeds. Entry and exit walls burst with photos. Many paths cut through many rooms, evoking a winding medina, though it reminds one of historical injustices to display the artists' work without their names.
Several parts of the exhibit juxtapose color, object, sound, and space in ways that reward attention. Lebohang Kganye's part black-and-white, part-color series follows a woman dressed in a man's suit and tie leaving home in the night to journey from South Africa to America, though finally slumping in a stupor of fear (Ke Lefa Laka, 2013-14). In Maïmouna Guerresi's royal diptych, Throne in White and Throne in Black (2016), trashcans and tires make armrests. Articulating new visions with old technical mastery is contemporary art at its best.
| | |
| --- | --- |
| Exhibition | Africa Is No Island link |
| Start date | 27 Feb 2018 |
| End date | 24 Aug 2018 |
| Presenter | Museum of African Contemporary Art Al Maaden link |
| Venue | Al Maaden, Sidi Youssef Ben Ali, Marrakesh, MAR map |
| Image | Joana Choumali, Mme. Djeneba Haabre, la dernière génération, 2013-14, print on Baryté paper, 90 x 60 cm, courtesy of the Museum of Contemporary African Art Al Maaden |
| Links | Reviews of current exhibitions near this one |
| Share | Facebook, Twitter, Google+ |