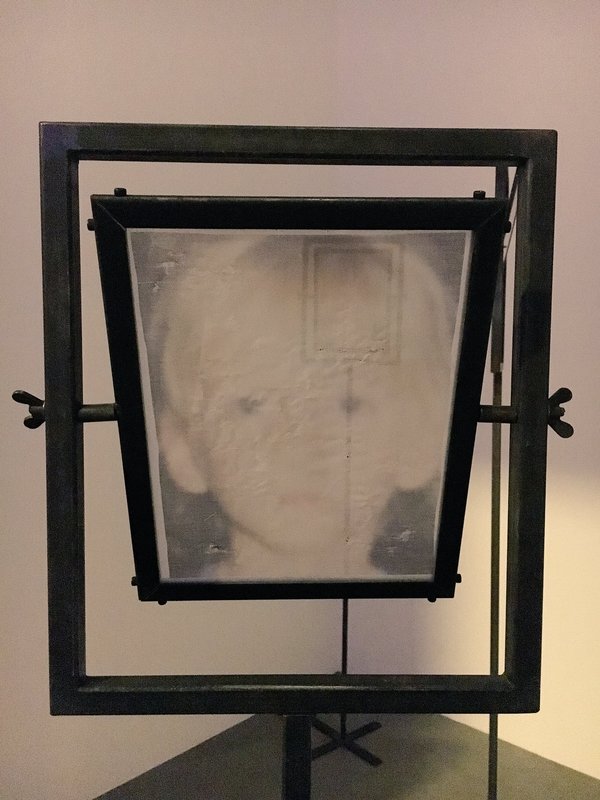 27 Jul 2017
Christian Boltanski: Anime. Di luogo in luogo
Museo d'Arte Moderna di Bologna
Reviewed by Vera Wilde
Darkness and a heartbeat enfold. A bare bulb pulses, not illuminating pictures tiling four walls. They glitter, black mirrors of darkness.
In the many-roomed exhibit beyond, grainy black-and-white photos invoke Holocaust-era children, families, and the faces of ghosts. Some float, hanging on huge linen sheets that feel rougher than they look, like skins on the starving.
A wall-sized film projection of tinkling bells shaped like toy flowers dominates a large side-room. The bells complement a sweet-smelling hay floor, reminiscent of killing fields but with sound commemorating decay too distant to stink. In a smaller side-room, carts full of clean, quality clothing suggest massive loss amid order.
In the middle of the spacious central room gleams an enormous pile of gold shit: trauma changes veneer, not essence, with time. The heartbeat that saw you in, sees you out, an ode to continuing life.
| | |
| --- | --- |
| Exhibition | Christian Boltanski: Anime. Di luogo in luogo link |
| Start date | 26 Jun 2017 |
| End date | 12 Nov 2017 |
| Presenter | Museo d'Arte Moderna di Bologna link |
| Venue | Via Don Giovanni Minzoni 14, Bologna, ITA map |
| Image | Installation view, Christian Boltanski: Anime. Di luogo in luogo, courtesy of the Museum of Modern Art, Bologna |
| Links | Reviews of current exhibitions near this one |
| Share | Facebook, Twitter, Google+ |